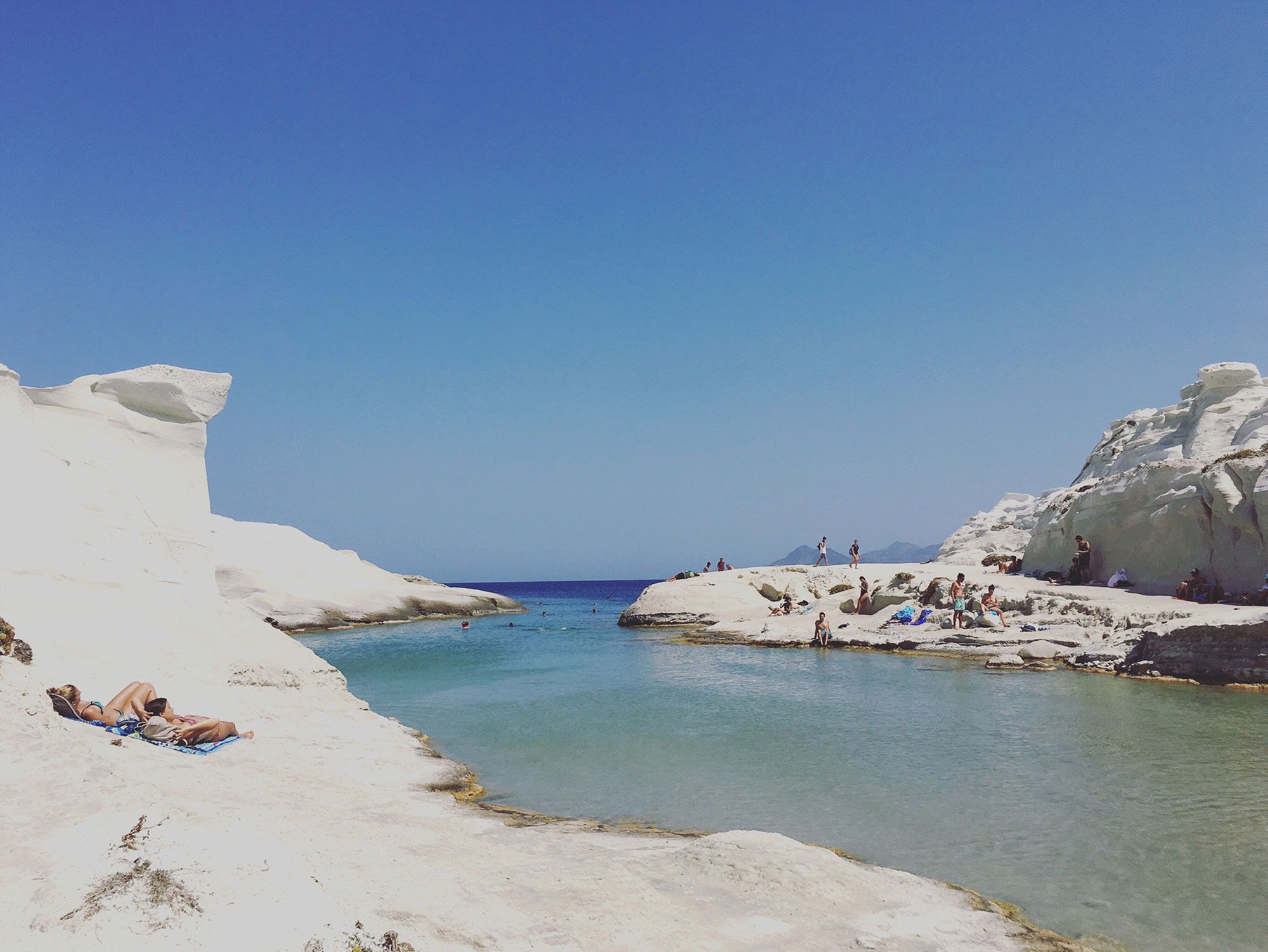 Milos
Milos is what we wished Mykonos was like on a good day. It's the lesser known Greek island with better beaches, better food, and way less tourists. Not insinuating that we don't like a good visit to the party island – but if Mykonos was Beyonce, Milos would be Solange. You get what we are saying here.
With spring on the horizon for many of us – the warm weather destinations on our go-to list start and end with Greece. If you're craving white washed houses and clear waters – Milos is your place. Unlike Santorini, Mykonos, or any of the more popular islands – Milos is home to 72 incredible beaches and a more interesting history (the statue of Aphrodite, now in the Louvre, was discovered here).
Adamas, Pollonia, Plaka, Klima, and Mondrakia are only a few of the towns that make up this incredible island (ie: you will definitely need a car to explore). All of them offer something different, and all of them are equally as stunning. Regardless of how or where you spend your time on Milos, it's sure to be your next favorite Greek getaway.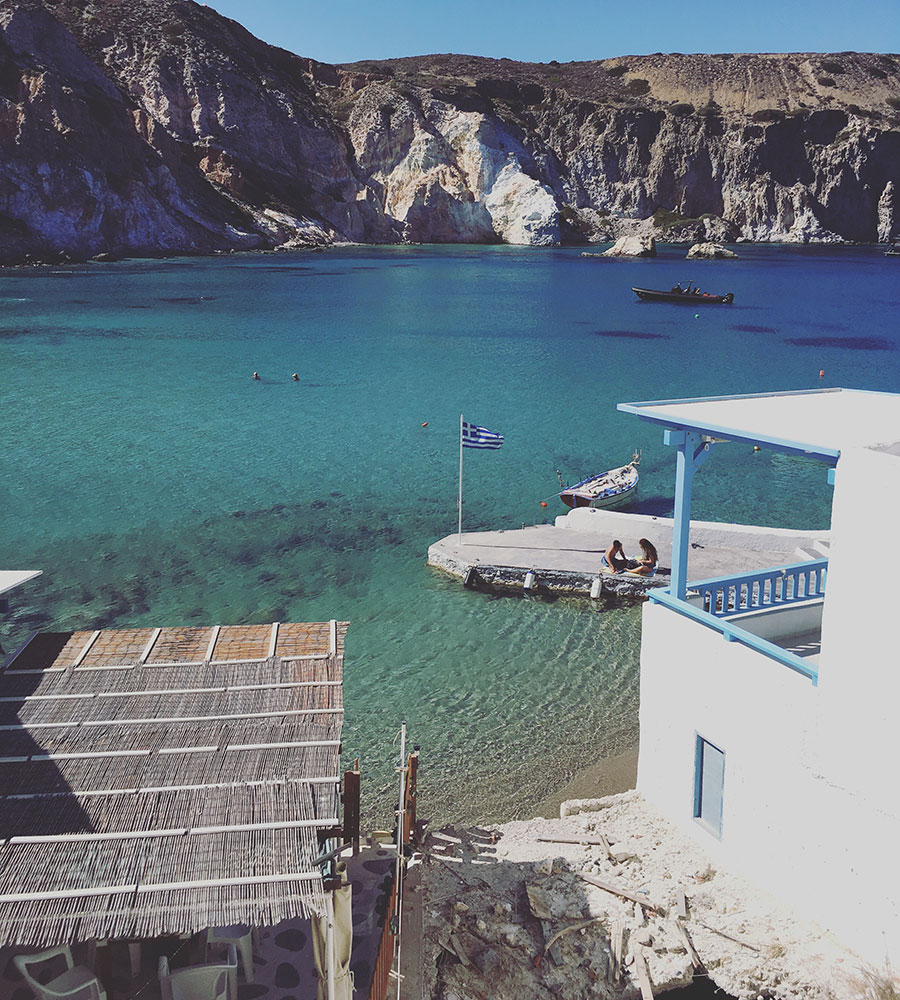 Where to stay
High in the hills, these modern glass and stone structures look like something out of Architectural Digest. A stark contrast to Adamas or Pollonia, these three villas are discreetly placed on a hillside overlooking the a bay. If you are wanting top notch design, attention to detail, and perfect seclusion – this is your spot.
For an accessible option, check out Kostantakis Winery & Residence. Though it isn't directly on the water, these well designed rooms are placed on a beautiful vineyard. It's a small boutique hotel, and you can tell they pay attention to detail. Plus – you can always head to their downstairs cellars to get a glass of vino when the time is right.
Located near Pollonia. Salt Suites makes your white-washed Grecian dreams come true. Only 1.5 miles from Papafragas Beach, the location is pretty hard to beat. Some rooms come with jacuzzis on the decks but we don't think that is 100% necessary. If you can, make sure to book a suite with a patio overlooking the bay.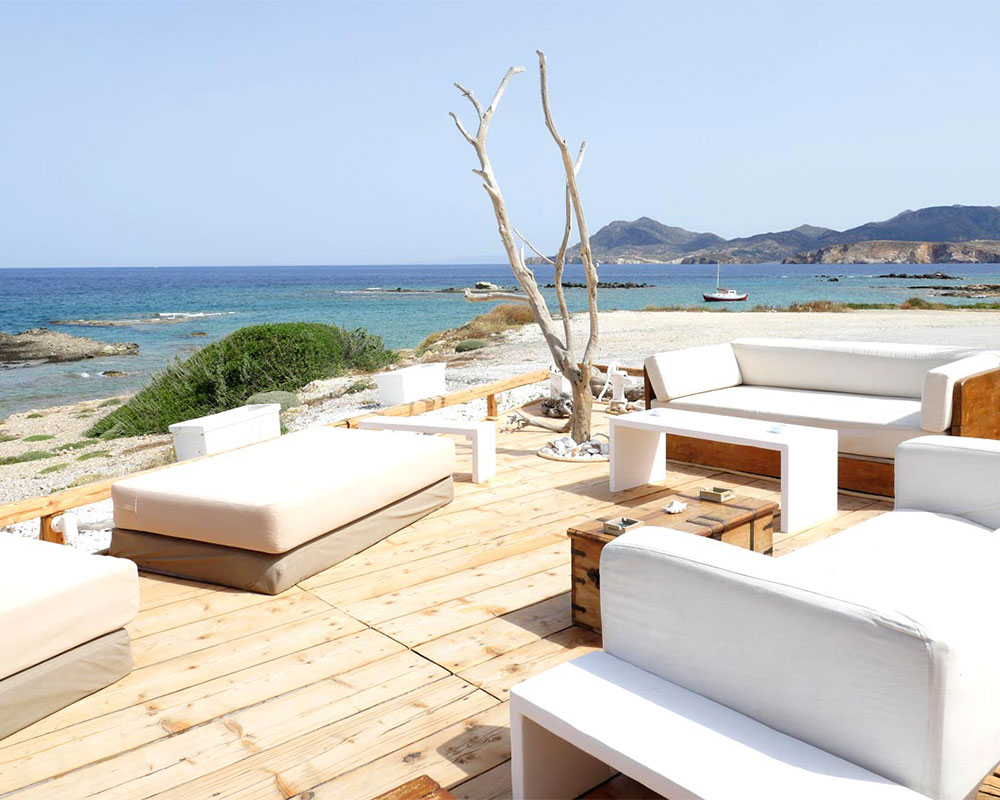 Where to eat
This Pollonia restaurant does a great job with Greek classics. This taverna is family run and the menu is based on recipes that were taken from grandma. Their seafood dishes are fresh and wonderful. Make sure to get a glass of white wine to wash them down with.
This restaurant isn't technically on Milos. Take a short boat ride to Kimolos and head to this simple seaside taverna. Though it clearly takes pride in the no-frills atmosphere – it's known to host the same celebrities as some of the best restaurants in NYC or Paris (Brad Pitt, Keira Knightly – you know, the regulars). Order the octopus and a variety of salads.
Set in a charming garden, this old school restaurant is where you go when you want home cooked Greek food like goat, lamb, and the like. They are famous for their grilled meats, and with good reason. Make sure to get a side of grilled cheese as well.
This is our favorite restaurant on the island. Come here a little early to check out Mandrakia beach and put your name in (there will likely be a wait but it won't be long). Serving the best seafood we had, make sure to order the octopus and get a full bottle of white wine. There will most likely be cats roaming around and if you can get a table overlooking the ocean….that's ideal.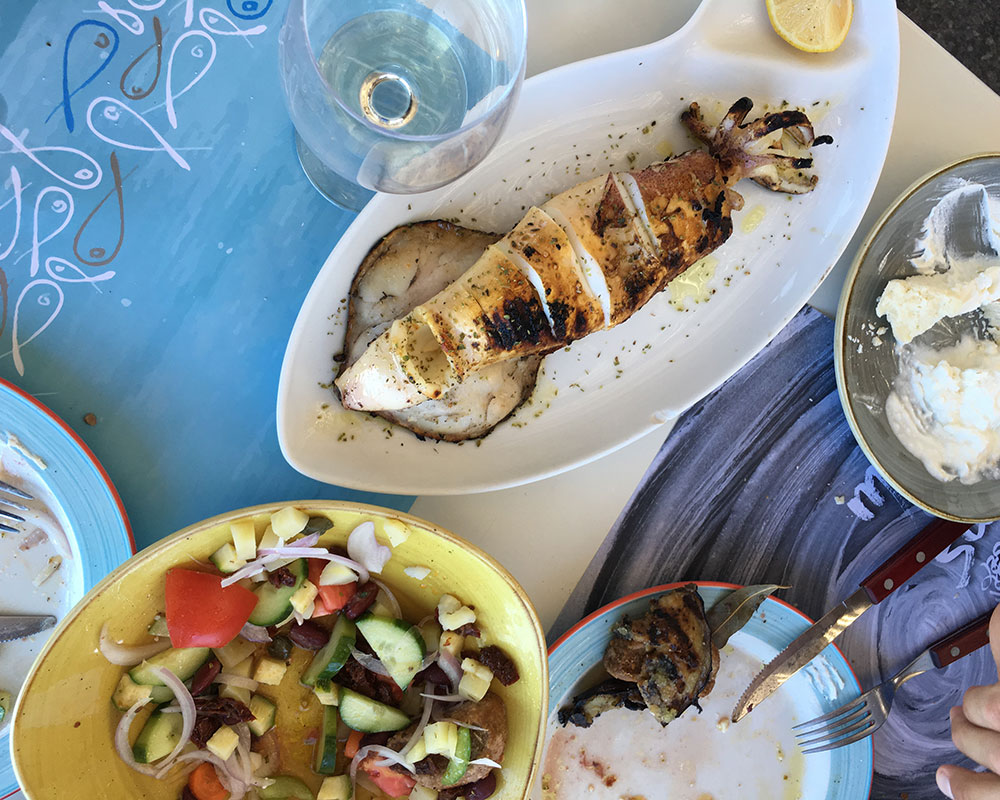 Where to drink
For the best sunset views, and decent cocktails, head to Utopia. In the hillside town of Plaka, you can come here to shop a bit before sitting down for a beverage. Make sure to check when Utopia is open – hours can be unpredictable.
Located in Plaka, Kri Kri doesn't serve the best cocktails we've ever had…but it does serve cocktails. You will most likely find other tourists starting their evening or grabbing a drink after dinner in town. The garden area is adorable and you could do worse than one of their watermelon cocktails.
This isn't the best wine in the world – but it's great to have a taste of what Greece is making. You can come here for a full tasting or just a glass, and walk the grounds while you sip.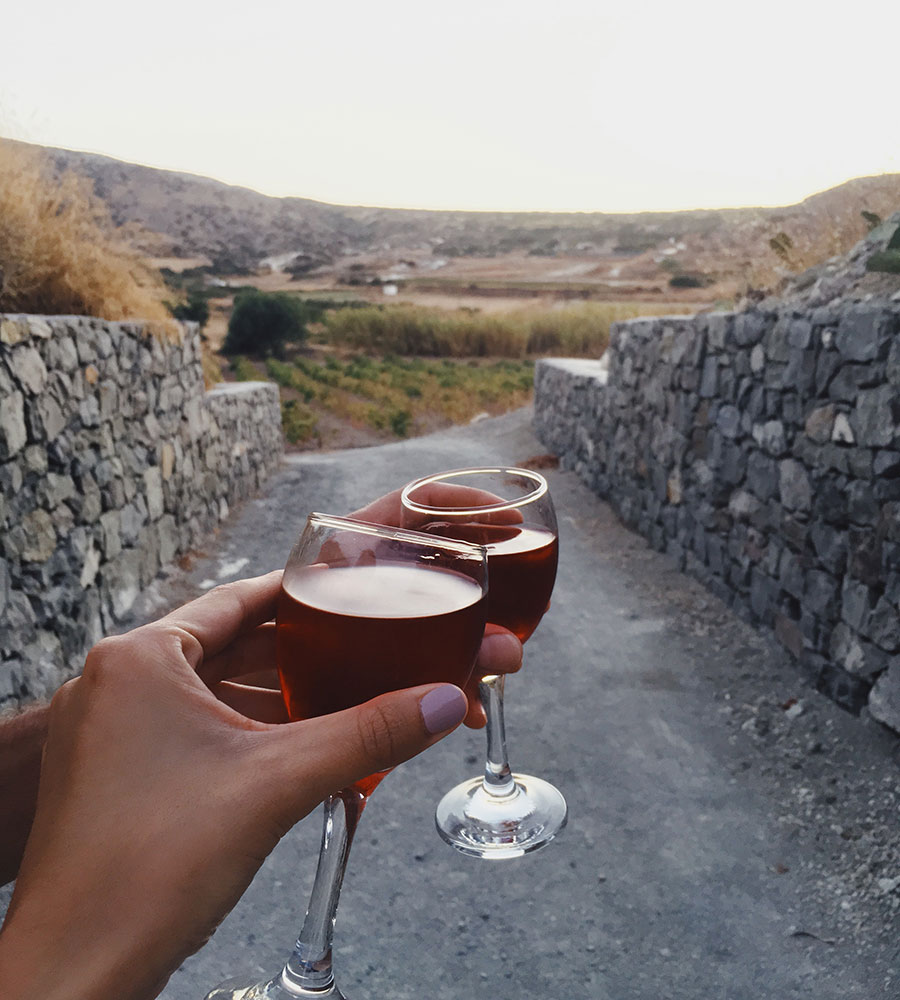 What to do
Firiplaka is the idyllic sandy beach we all think about when Greece comes to mind. The hillside that juts down to the water is a mix of yellow, pink, and sand – which proves to be a pretty incredible contrast to the bright blue ocean. Once you realize you aren't in fact on drugs and this place is actually that beautiful – take your pick of either renting a cabana or lounge chair, or walk a bit further down the beach and find your perch in the "clothing optional" zone.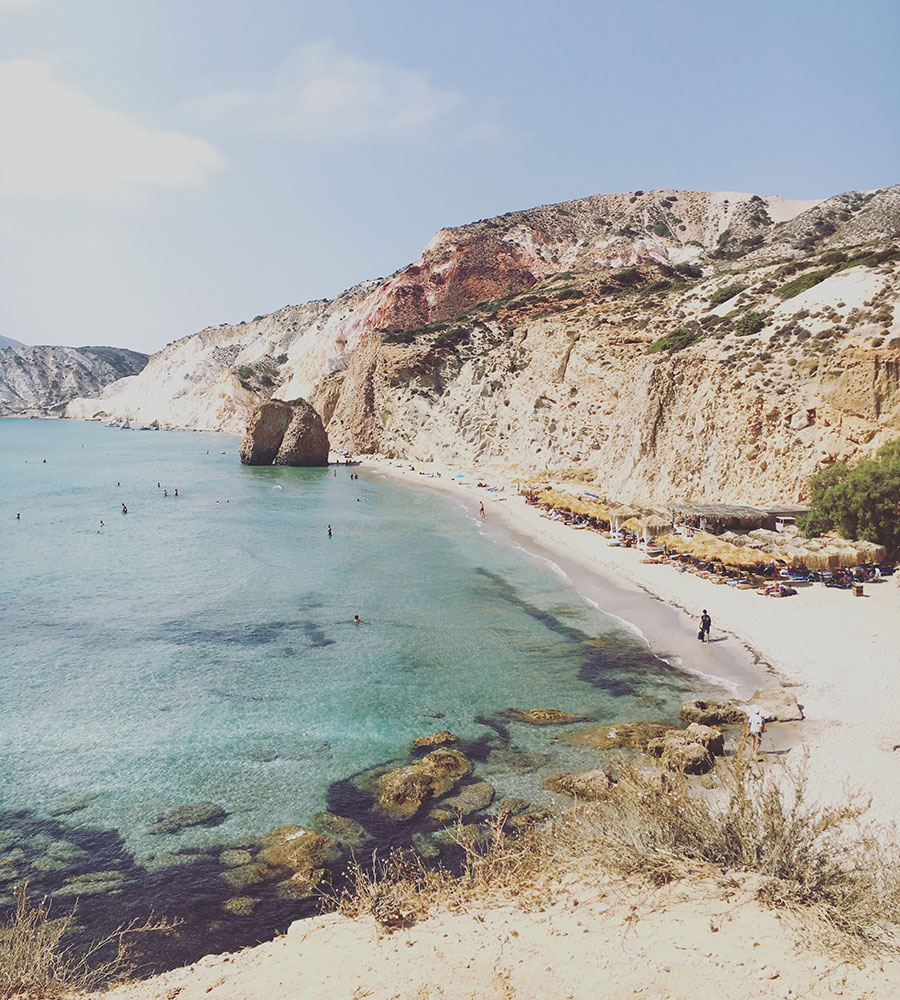 Milos was once an island where pirates took shelter after looting ships. The Kleftiko Caves were some of their favorite places to hide – and you can clearly see why (they are beyond gorgeous). You'll need to take a boat to see the caves, but it's 100% worth the trip. Make sure to check the weather as boats don't go out if it's too windy. We recommend taking Oneiro tours since they cater to small groups and a more personalized experience.
On the other side of the island from Plaka and Adamas is this tucked away beach. It's near Firiplaka – so feel free to wrap a visit into a larger beach day when you're hitting a few spots on the southern part of the island. Make sure that you are prepared for the descent to the sandy perfection that is Tsigrado. There is a steep passage way that isn't suitable to everyone…but if you can make it down, it's a gorgeous place to spend the afternoon.
By far one of the most famous spots in Milos – Sarakiniko is the moonscape beach that we have all swooned over in photos. White volcanic rocks line the shallow waters, and make for amazing structures to jump off of and sunbath on.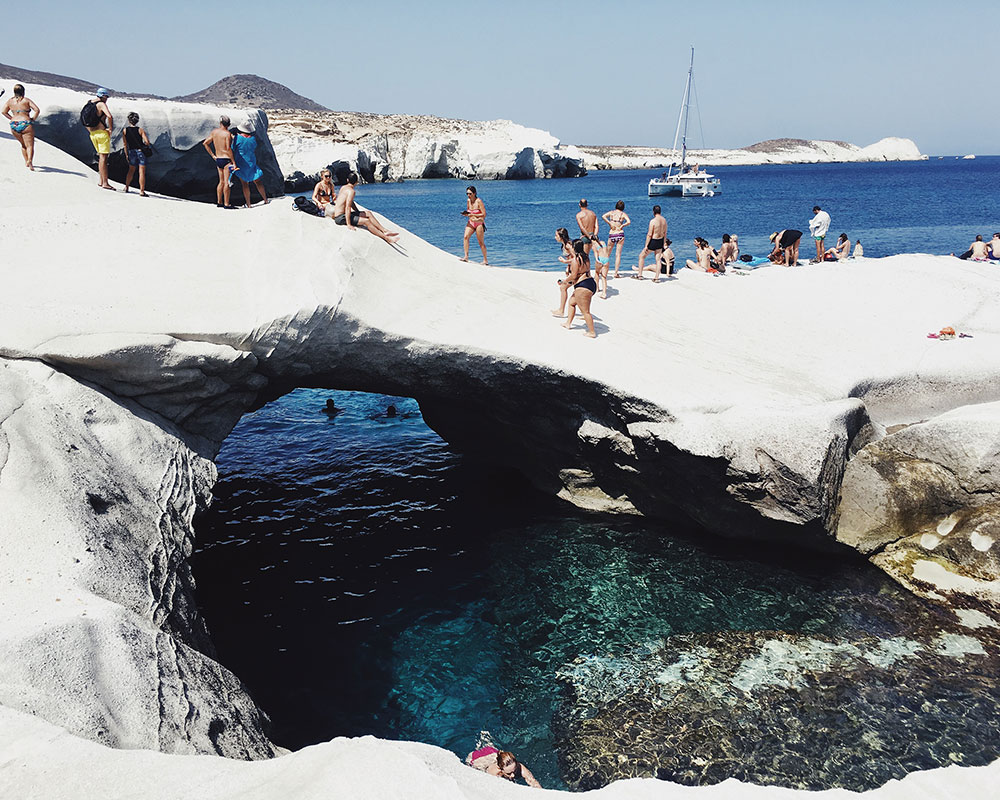 Classic fishermen houses provide a backdrop to Firopotamos beach. This isn't the secluded cove you may want, but it is gorgeous for other reasons. Take in the local culture of boat houses and Greek tourists getting their dose of Vitamin D on the sand.
Where to get your hit of culture
Built in the 13th century, the Venetian Castle is located on the highest peak on the island and is well preserved. Definitely come here for a sunset (or sunrise) and find some of the best views in Milos.
One of, if not the most picturesque village in Milos. An old fishing town that still operates. The houses are carved into the rock that makes up the white-washed background, and the village is famous for its colorful "boat garage" doors. This is another great place to catch a sunset.
These things are very, very old. Dating back to the 1st – 5th century (yes, that's a thing), these are the only Christian catacombs in Greece. They are super well preserved and offer a welcome break from the sunshine.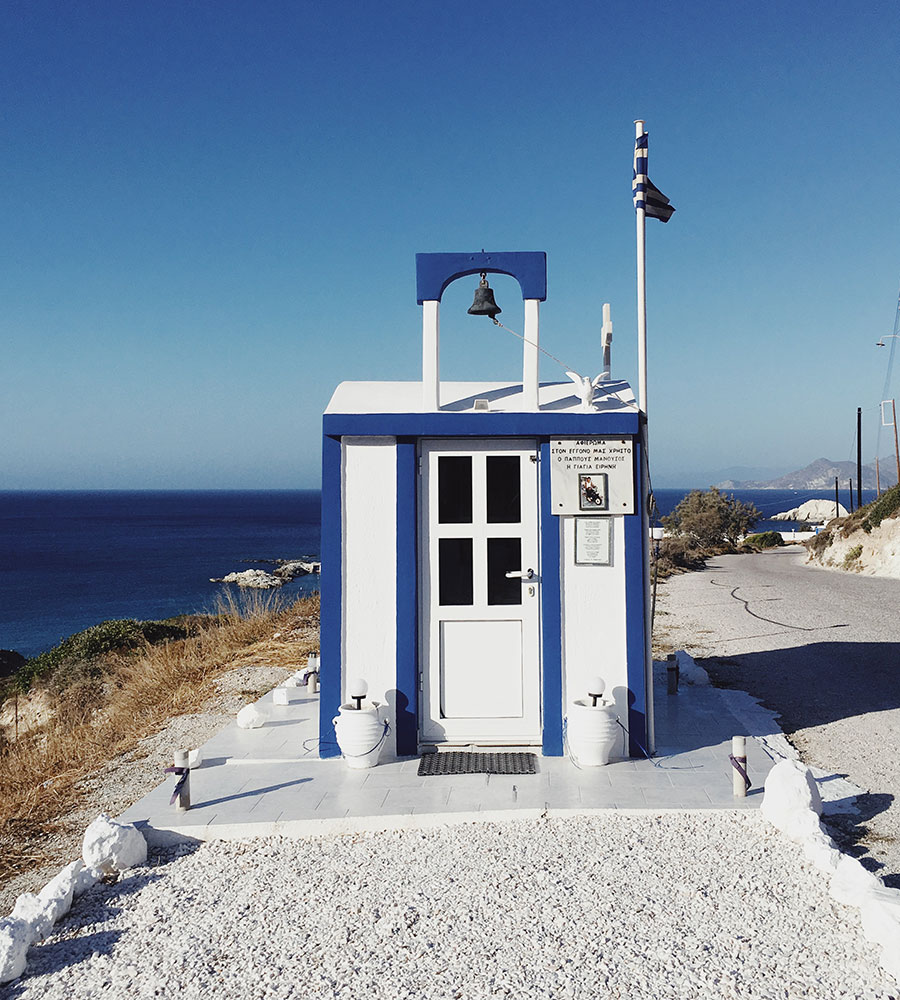 Where to break
If you happen to have a sweet tooth and, for some insane reason, need a break from the delicious Greek mezze that Milos has to offer – head to Palaios Pastry. Everything in the shop is homemade, and they offer a variety of traditional Greek desserts.
A little coffee shop in Pollonia where you can get your afternoon coffee fix. Don't expect the high end espresso bars you might find in London or LA, but you will certainly enjoy your company and a pick-me-up.
Summary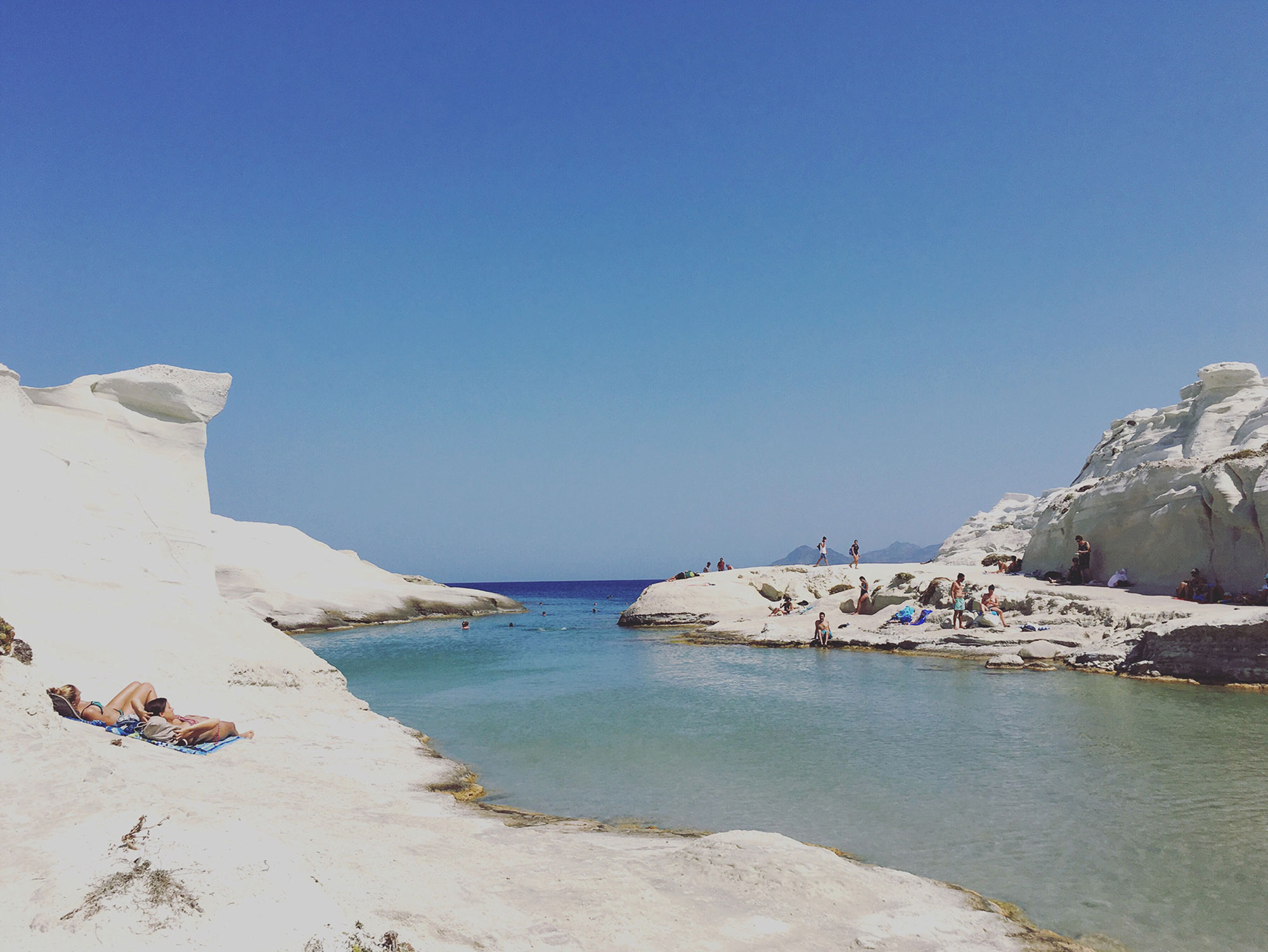 Article Name
Description
This Insider's guide to Milos will help you discover highly-recommended restaurants, bars, cafes, hotels, attractions, and shopping in this incredible city!