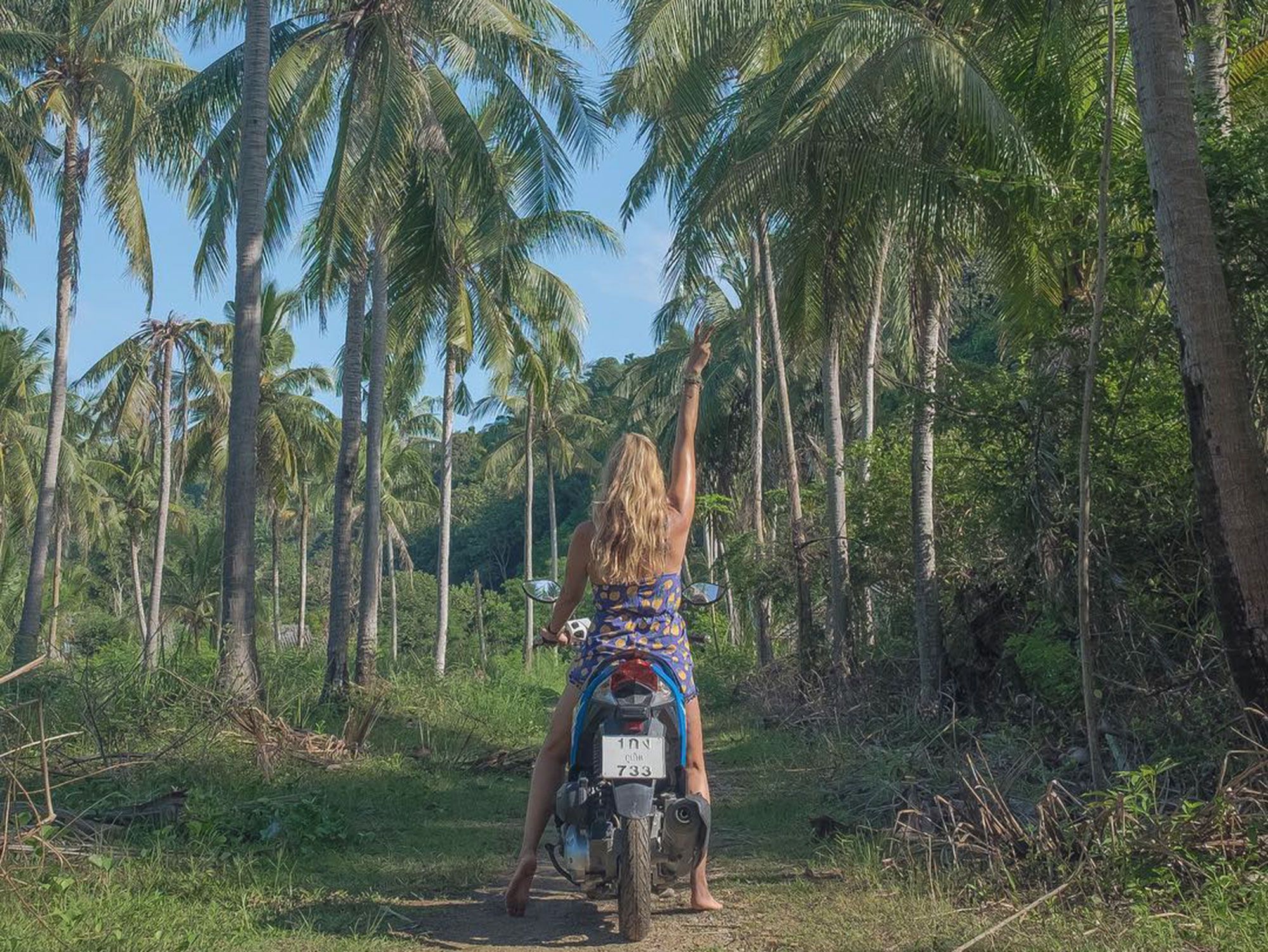 Nicole Humphreys, Founder of August Effects
You know those people who jet off to a foreign land and seem to live the idyllic island life that you dream about while sipping your third cup of coffee and plugging away at a Google doc? Well, one of those people happens to be Nicole Humphreys.
Nicole traded in her job at a non-profit in LA to move to Bali for the better part of a year. Though she now splits her time between the gorgeous island and the states, she began her company August Effects during her time there. August Effects sells beach and home goods that are 100% hand crafted by local artisans in Bali. Bonus point? Every purchase equals a donation to Bali Children Foundation.
Constantly on the go – Nicole has explored much of Asia using Bali as her launching point, and continues to preach the nomad life far and wide. We can't say we aren't just a little jealous…
Follow her adventures @nicolealexandra86 and her company @augusteffects.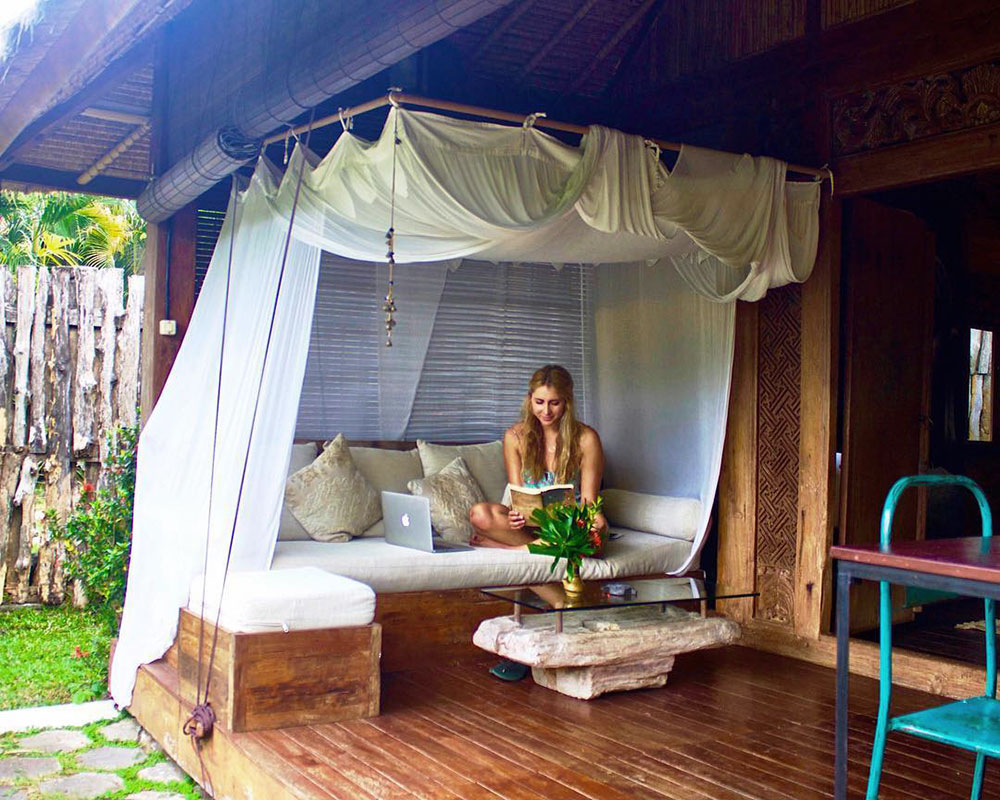 What are 3 of your favorite hotels?
1. Aetas Glamping, Palawan, Philippines – One of a kind glamping experience overlooking the rice fields in El Nido, Philippines. The service is truly out of this world exceptional!

2. Four Season, Chiang Mai, Thailand – One of the most gorgeous hotels I have ever stayed in. The room was essentially a glamorous tree houses with unbelievable views.

3. Korakaia Pensione, Palm Springs, CA – A romantic, serene, gorgeous bed and breakfast with tons of special touches. Highlights are the incredible breakfast served on their patio each morning, the old movies they play outdoors every night, and the exceptional service.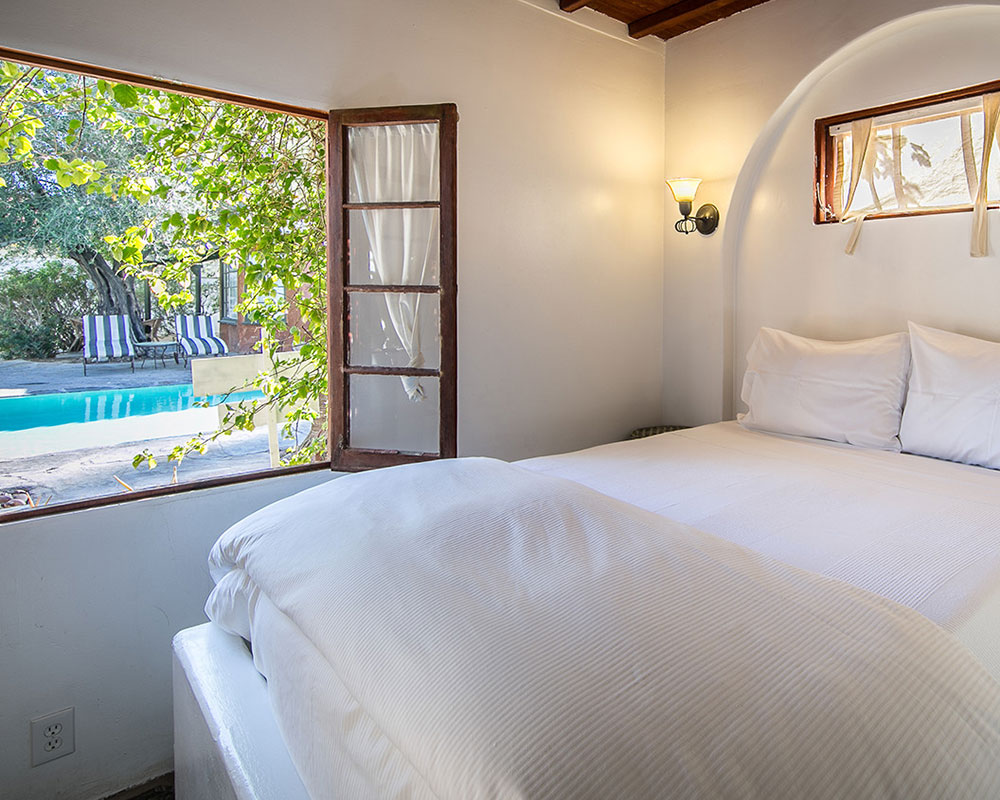 What are your favorite "offices" while traveling?
In Bali, I am always on the go and work primarily out of coffee shops and co-working places. My go-to is called Dojo and it is located in the heart of Canggu, Bali, right next to Echo Beach. It is set up as an open-air concept with a bamboo roof overhead and a big pool if anyone needs a work break. They have an amazing café there to keep you well fed and caffeinated while you work. Every night Dojo offers different lectures,speaker, and activities for their members. The vibe is collaborative and everyone helps each other out. When you sign up, you join their Facebook group where everyone shares tips, apps, business advice, etc. Highly recommend the Dojo as your office if you pursue the digital nomad life.
A similar co-working place is Hubud in Ubud, Bali. The structure and vibe are incredible and the people are all amazing.

Lastly, my favorite coffee shop in Bali to work from is called Koloni. Great food, coffee, fast Wi-Fi, and comfortable set up.
Where would you go for a digital detox or just generally to get off the grid?
The Philippines! I just went for my 30th birthday and it is the ultimate way to get off the grid and have a digital detox. This is because there is pretty much no Wi-Fi so you can't be tempted to get on your phone. It is also a pretty difficult place to get to – think multiple flights, long car rides, boat rides to different islands, etc. It is worth it though. You feel like you are completely off the grid and forced to live 100% in the moment!
What do you always bring with you in your carry-on?
My August Effects bikini bag as it's the perfect size for toiletries, noise cancelling headphones, my kindle, and my night shades (this is a must have for being able to sleep!).
Best travel advice you've ever received, and from whom?
I am kind of adapting this question as I learned a lot about the importance of packing after I went on Semester at Sea and traveled to 13 countries in 4 months. I find it so helpful for all my travels that I want to share it:

"Focus on making sure you have all the toiletries you need to feel clean and stay healthy while traveling and don't focus so much on clothing."

You can always buy more clothing wherever you are in the world but it is difficult to buy essential cosmetics and toiletries in certain countries. This made me realize that the clothes you do pack should be multi-purpose if possible. One of the things I always have in my carry-on is my August Effects sarong, since it's lightweight and I can use it over my shoulders, as a blanket, or as a cover up.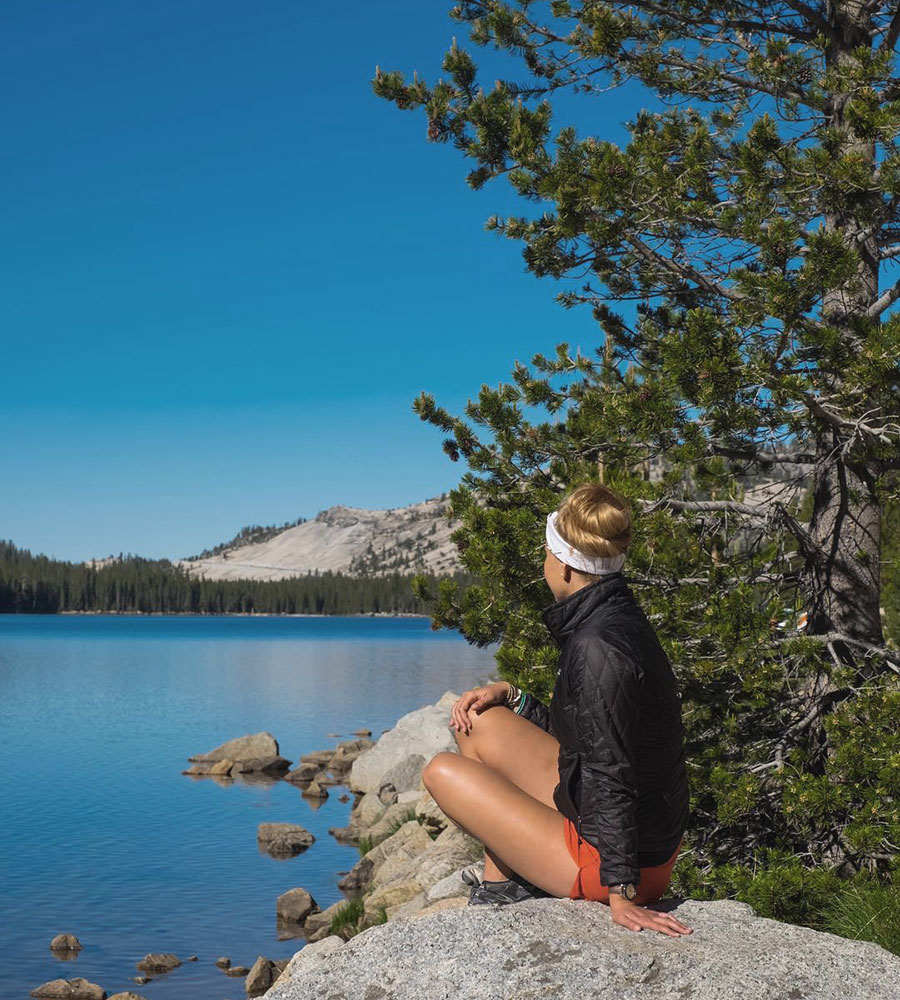 Anxiety and burn out are big topics these days. How do you combat them, and how do you use travel to do so?
Meditate. This is something I started doing a few years ago and it has not only changed my life but changed how I travel. I use the app Headspace and do a 10-15 min meditation every morning right when I wake up.
Travel can be about the little luxuries…like a super amazing cup of coffee. Where was the best one you've had?
Peloton Supershop. This is my favorite café/coffee shop in Canggu, Bali. It is fully vegan café with some of the most gorgeous, unique and delicious food I have ever had in my life. It also has my all-time favorite cup of coffee. I order the flat white with coconut milk. Pro tip: ask them for the large size (it is not on the menu!).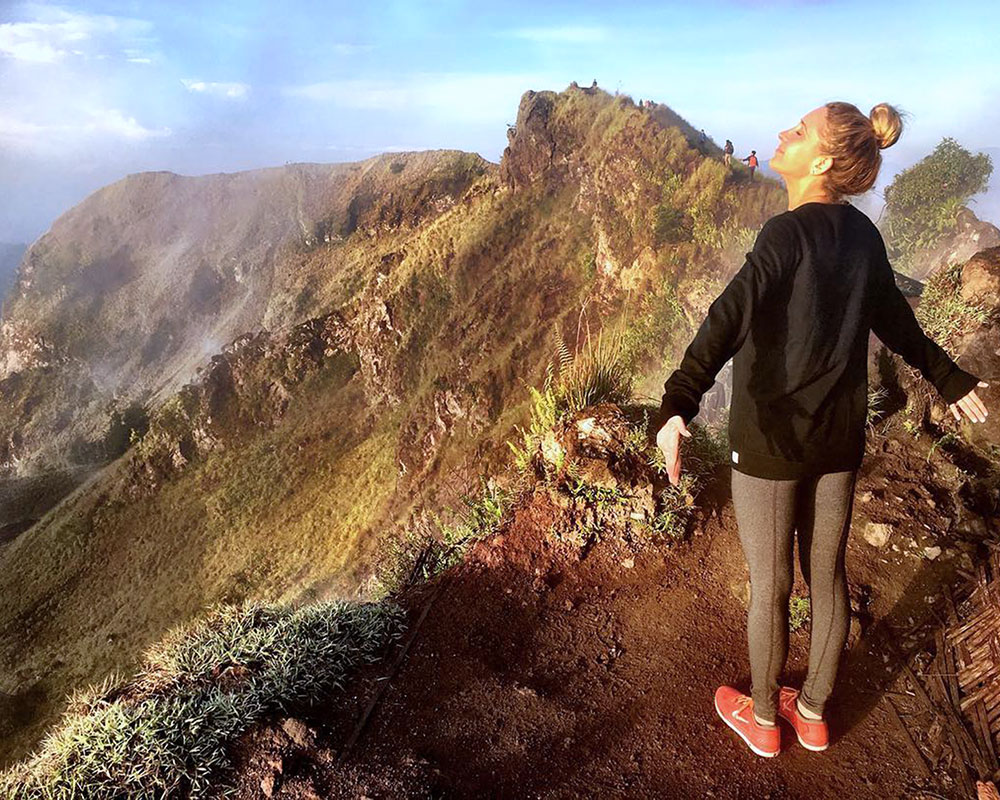 Rank the following, from most to least important to you, re: what you seek in a hotel experience:
Location, comfortable, doesn't break the bank, locals hang out there, unique, has a pool, architecturally intriguing, dope minibar.
If you could quit your job and follow the "Mamma Mia" dream (i.e. open a small hotel in a foreign land or on a remote island), where would you do it?
Gili Air! There are three "Gili" islands off of Bali that are around an hour or two boat ride. My favorite of the three is called Gili Air. It is tiny island that no cars are allowed on. People get around via bike or horse and buggy and you can walk around the entire island in about 45 min. There are bars and restaurants that line the island and everything is right on the beach. I spent my 1-year honeymoon there at a tiny hotel that a couple from Europe opened. They have been there for 15 years now and have never looked back. This would definitely be an amazing place to live out the dream of opening a small hotel on a remote island!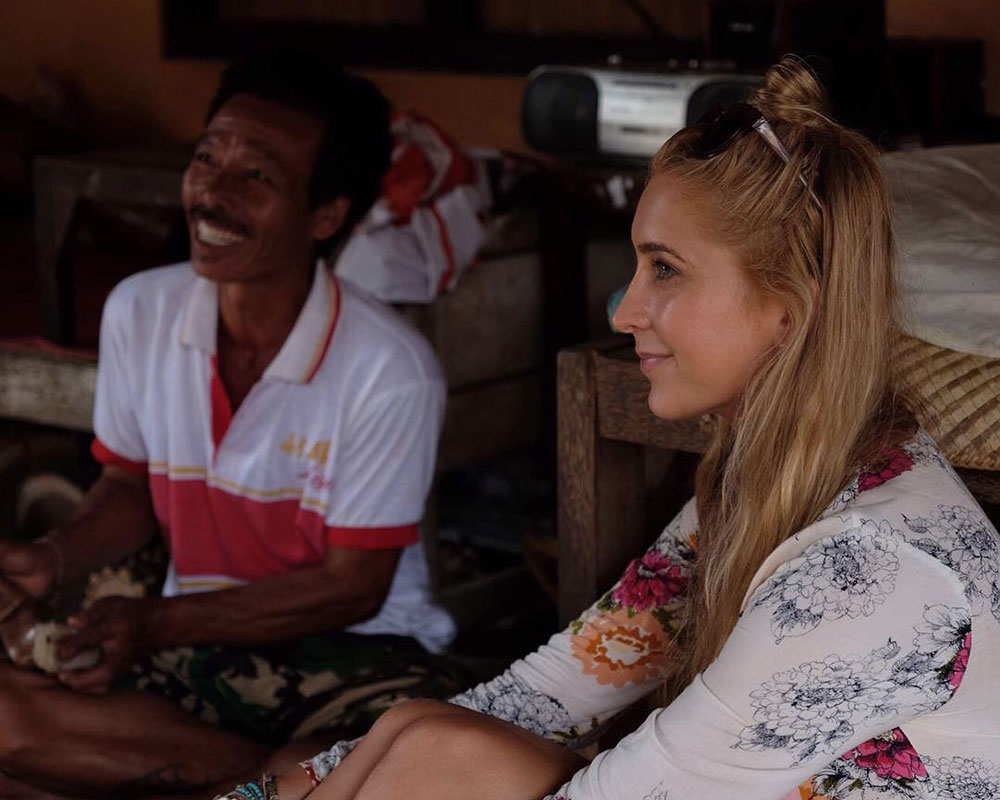 In flight Wifi, Y/N?
No!
Fantasy mini-bar/fridge item?
Four Sigmatic Mushroom Coffee
Favorite travel app?
Maps.Me – it is a free app where you download a map of the destination you are headed to (do this when you have wifi). Then when you are at your travel destination, you can use the app without wifi to look up anything you need while there!

Summary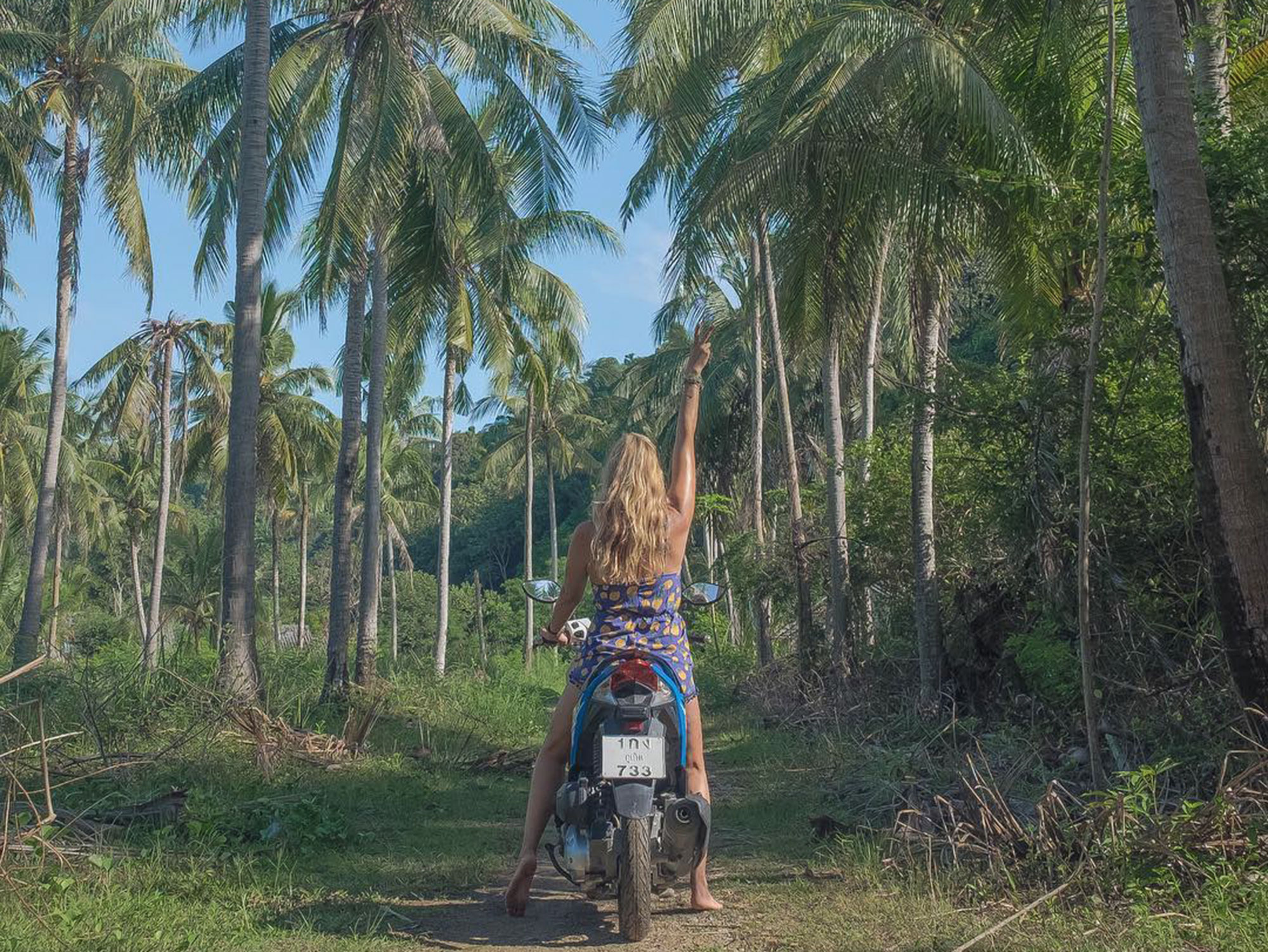 Article Name
Nicole Humphreys, Founder of August Effects
Description
Nicole traded in her job at a non-profit in LA to move to Bali, and now splits her time between the gorgeous island (where she began her company August Effects) and the states. Check out her travel tips!